CALL US NOW ON FREEPHONE 0800 781 7059 or 07973 552135
COCKROACHES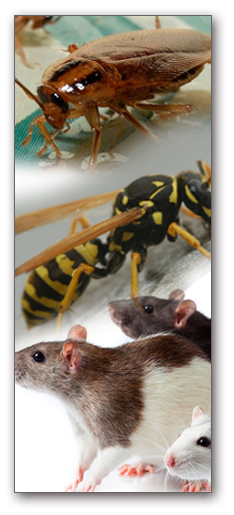 Cockroaches are a health hazard due to contamination of foodstuffs, leading to food poisoning and their droppings and shed body parts can be a problem to asthma sufferers. They crawl into electronic components and cause circuit boards to fail. Particularly at risk are central heating controllers in dark, warm cupboards. They damage leather goods, pictures etc, cockroaches eat almost anything. They hide during the day and feed at night. Their favourite harbourages are behind the fridge, behind the cooker and places that are dark and warm.
Infestations in self-contained dwelling units are relatively easy to bring under control, but houses divided to give multi-occupancy and some flats are difficult. As far as a cockroach is concerned, a house converted into flats is one space and generally the fabric of the building does not present a barrier to cockroaches spreading throughout the building. If the infestation is tackled early, treatment of one unit may suffice, but often it is necessary to treat each flat at the same time. Older style high-rise blocks are particularly difficult as colonies tend to establish themselves in rubbish chutes and service conduits and spread from there.
Highly effective modern products are available to treat cockroaches, but these are only available to professional pest controllers. The key to successful treatment is to ensure that the kitchen is perfectly clean before treatment starts.
The question often asked is how do you get them in the first place? The answer is that almost always it is eggs, not adults that are imported and the most common way is that they are stuck on cardboard boxes, or food packaging.
CALL FREEPHONE 0800 781 7059 or 07973 552135 NOW!
---