CALL US NOW ON FREEPHONE 0800 781 7059 or 07973 552135
Do you have problems with

wasps

bees

bed bugs

mice

rats

squirrels

pigeons

fleas

at your home or business?
Is your home or business been held to ransom by pests?

Unwanted guests can be a pain at the best of times, but when those guests could spread disease and cause hygiene problems.
Now is the time to take control!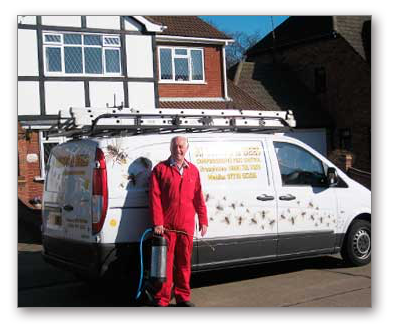 We have over 20 years of experience dealing with bugs, birds and pests of all shapes and sizes. We can get rid of and control your infestation quickly and efficiently. We have technicians based throughout Essex with knowledge and experience of your local area, that are always happy to help.
Although the company name suggests only wasps and bees, a comprehensive Pest Control service is provided. It is called Wasps and Bees so that the name on the van does not offend - one would not want a van parked outside marked rats, fleas and bed bugs!
Pest Control Southend provides professional pest control services to a large number of estate agents, businesses and property management agents in Essex. Our charges are the lowest in the area and we seek to complete all jobs within 24 hours.
Full public liability insurance is covered and our staff are all fully trained.
Company director David Piper has been a professional beekeeper for 30 years and is a keen biologist, holding a degree in the subject and his business has grown from his interest in nature. His philosophy is that whilst we must protect ourselves from diseases spread by pests, the preferred option is moving them along instead of killing them. This particularly applies to bee control, as they would only be killed in very exceptional circumstances.
CALL FREEPHONE 0800 781 7059 or 07973 552135 NOW!
---